.
Salata Shopska
Ingredients:
— 3-4 tomatoes, diced
— 1 cucumber, chopped
— 4-5 green peppers, chopped
— 1 onion, chopped
— 150 g feta cheese, crumbled
— 250 ml parsley
Dressing: vinegar, sunflower oil and salt to taste
Salata Shopska Recipe
Directions:
Bake, peel and seed the peppers. Cut into small strips and add the diced tomatoes, cucumbers and onion. Add salt, oil and vinegar, and mix.
Serve in the shape of a pyramid. Top with chopped parsley and grated cheese.
.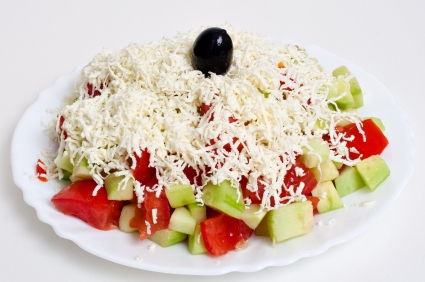 Related Terms:
Some related terms: How to cook, shopska salata, recipe.
SHARE With Your Friends:
Look at the other similar posts:
Also SEE: